BARRY DUNAWAY, IS A GIFTED AND VERSATILE BASSIST, SINGER AND SONGWRITER.  BARRY'S MUSICAL JOURNEY BEGAN AT THE AGE OF 12 IN MIAMI WITH HIS BIG BROTHER, DON OJA-DUNAWAY.  AS BARRY'S FIRST MUSIC TEACHER AND MENTOR, BROTHER DON GAVE BARRY HIS FIRST GIG AND TASTE OF LIFE ON THE ROAD WHEN DON AND HIS FRIENDS, COCONUT GROVE ICONS RON KICKASOLA AND GEORGE CORROCHANO CREATED SEVERAL BANDS INCLUDING "BITTERSWEET" AND "CHEYENNE".  BY THE TIME BARRY WAS 16, HE WAS RIGHT WHERE HE WANTED TO BE.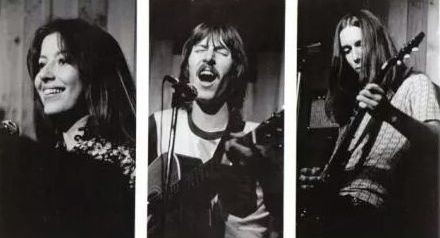 A FEW YEARS LATER, DON AND BARRY FORMED "CHUFFA", ADDING THEIR SISTER, SHARON, ON VOCALS AND KEYBOARD. CHEYENNE AND CHUFFA BOTH PERFORMED IN LISTENING ROOMS & COFFEE HOUSES FROM "The Raven" IN DETROIT TO "The Lantern Inn" IN KEY WEST.
ONE POPULAR SPOT IN MIAMI OF PARTICULAR NOTE, "THE FLICK" COFFEEHOUSE, WAS FREQUENTED BY MANY RELATIVELY UNKNOWN ARTISTS DURING THE MID '60's INCLUDING GABE KAPLAN, STEVE GOODMAN, DION, GAMBLE ROGERS, JONI MITCHELL AND DAVID CROSBY. BY THE SUMMER OF 1969, BARRY WAS PLAYING AT THE FLICK FIVE NIGHTS A WEEK WITH BITTERSWEET AND ALSO WITH RON KICKASOLA & PETE NEFF.  BARRY OCCASIONALLY SAT IN WITH GAMBLE ROGERS, DION, VINCE MARTIN, ELIZABETH CORRIGAN, GEORGE BLACKWELL, MIKE SMITH AND BARBARA BARROW. FOR MORE INFORMATION ON THIS ICONIC FOLK MUSIC VENUE, CHECK OUT "TALES OF THE FLICK".
ATLANTA, GA BECAME HOME BASE IN 1972, WHERE BARRY BECAME A MEMBER OF THE POPULAR ATLANTA GROUP, "SILVERMAN", FEATURING RON NORRIS, DEBORAH McCOLL & CARL CUSEO.  WHEN SILVERMAN WASN'T ON THE ROAD, THEY PLAYED REGULARLY AT "THE BISTRO" AND "THE GREAT SOUTHEAST MUSIC HALL", WHICH WERE BOTH LAUNCHING PADS FOR MANY UP-AND-COMING FOLK AND PROGRESSIVE ROCK ACTS FROM JIMMY BUFFETT TO THE SEX-PISTOLS, WHO PERFORMED THEIR FIRST USA PERFORMANCE AT THE GSMH.

WITH HIS FOCUS CHANGING TO ROCK N' ROLL, BARRY BECAME INVOLVED WITH ANOTHER ROCKIN' ATLANTA BAND, "WHITEFACE", WHO ALSO PLAYED AT THE BISTRO.  DURING HIS TIME WITH WHITEFACE, BARRY, ALONG WITH BAND MEMBERS, DOUG BARE, STEVE HARDWICK AND BEN RAPPA MOONLIGHTED AS A STUDIO BAND AND WORKED WITH PRODUCERS PAUL DAVIS AND PHIL BENTON RECORDING ALBUMS FOR PAUL DAVIS, TEDDY BAKER JAMES ANDERSON AND MAJOR LANCE.  WHILE LIVING IN ATLANTA, BARRY ALSO PLAYED WITH THE BANDS: "RIGGS", "MAGIC CAT" AND "BAREBACK".
BARRY GOT HIS FIRST BIG BREAK IN 1982 JOINING FORCES WITH PAT TRAVERS ALONG WITH GOOD FRIENDS PAT MARCHINO AND JERRY RIGGS.   PAT HAD JUST RELEASED HIS NEW ALBUM "HOT SHOT" AND WAS TOURING WITH WASP AND KISS ON THE "UNMASKED TOUR".  DURING THE NEXT THREE DECADES, BARRY WORKED AND TOURED WITH THE PAT TRAVERS BAND FROM TIME TO TIME.  BARRY AND PAT ALSO WORKED TOGETHER WITH COLLABORATIVE BANDS VOICES OF CLASSIC ROCK AND ROCK & POP MASTERS.
IN 1983, THROUGH HIS INVOLVEMENT WITH RIGGS, BARRY MET LEGENDARY PRODUCER, JEFF GLIXMAN, WHO HAD JUST FINISHED JOE LYNN TURNER'S FIRST SOLO RECORD, "RESCUE YOU", ON ELECKTRA.
A COUPLE OF YEARS LATER JEFF INTRODUCED BARRY TO JOE LYNN'S GUITAR PLAYER, BOBBY MESSANO.  SOON AFTER, BARRY RELOCATED TO NYC AND TOURED IN 1986 WITH JOE LYNN SUPPORTING THE "RESCUE YOU" ALBUM.  BARRY CREDITS JOE LYNN  TURNER FOR INTRODUCING HIM TO SOME OF THE MOST INTERESTING AND INFLUENTIAL MUSICIANS IN THE BUSINESS.

WHILE STILL LIVING IN NEW YORK, BARRY GOT A CALL THAT WOULD IN TIME RESULT IN FOUR WORLD TOURS AS YNGWIE MALMSTEEN'S LONGEST REINING BASS PLAYER.  
BARRY PERFORMED ON NINE OF MALMSTEEN'S ALBUMS, TWO OF WHICH HAVE GOLD STATUS IN JAPAN, "FACING THE ANIMAL" AND "ALCHEMY".  TO HIS CREDIT, BARRY'S FOUR WORLD TOURS WITH MALMSTEEN INCLUDE THE "ODYSSEY TOUR" IN 1989, "FIRE AND ICE TOUR" IN 1992, "INSPIRATION TOUR" IN 1996 AND "FACING THE ANIMAL TOUR" IN 1998.
BETWEEN RECORDING AND TOURS WITH YNGWIE, BARRY WAS ASKED TO JOIN THE NEW YORK BASED BAND"SARAYA", TO RECORD THEIR 2ND ALBUM, "WHEN THE BLACK BIRD SINGS".  AT THE TIME, THE SARAYA LINE UP WAS TONY BRUNO-GUITAR, CHUCK BONFANTE-DRUMS, GREG MUNIER-KEYBOARDS, JOHN ROGGIO-GUITAR AND SANDY SARAYA-VOCALS.

IN 2001, BARRY BECAME A MEMBER OF "VOICES OF CLASSIC ROCK" (WHICH LATER BECAME "ROCK & POP MASTERS"). THE CONCEPT FOR BOTH VCR AND RPM IS A COOPERATIVE COLLABORATION OF MANY ROCK LEGEND SINGERS SUCH AS LARRY HOPPEN (orleans); JIMI JAMISON (survivor); MIKE RENO (loverboy); ALEX LIGERTWOOD (Santana); FERGIE FREDERIKSEN (Toto); RONNIE HAMMOND (atlanta rhythm section); JOHN CAFFERTY (beaver brown band); MICKEY THOMAS (starship); BILL CHAMPLIN (chicago); STEVE AUGERI (Journey); GLENN HUGHES (deep purple); SKIP MARTIN (kool & the gang); DAVID PACK (ambrosia); JIM PETERIK (ides of march -survivor); AND DAVE JENKINS (pablo cruise) TO NAME A FEW.

SINCE 2004, BARRY HAS ALSO BEEN A PROUD MEMBER OF THE "AMERICAN AIRLINES ALL-STAR BAND" THROUGH HIS FRIENDSHIP WITH MANY OF THE AMAZING ARTISTS IN VCR & RPM.

THIS AWESOME GROUP PERFORMS TWO SHOWS PER YEAR; AMERICAN AIRLINES CELEBRITY SKI WEEKEND IN VAIL, COLORADO BENEFITING THE CYSTIC FIBROSIS FOUNDATION; AND, THE AMERICAN AIRLINES GOLF & TENNIS WEEKEND HELD IN CARLSBAD, CA BENEFITING SUSAN B. KOMEN FOR THE CURE.
DURING BARRY'S 40+ PROFESSIONAL YEARS, HE HAS HAD THE PLEASURE OF PERFORMING, TOURING AND/OR RECORDING WITH MANY OTHER PROMINENT MUSICIANS INCLUDING THESE AMAZINGLY TALENTED SINGERS; JIMI JAMISON (survivor); FERGIE FREDERIKSEN (toto); MIKE RENO (loverboy); ALEX LIGERTWOOD (santana); LARRY HOPPEN (orleans); JOE LYNN TURNER (rainbow-deep purple); BILL CHAMPLIN (chicago); DEREK SHARP (the guess who); STEVE AUGERI (journey);DON BARNES (.38 special); SKIP MARTIN (kool & the gang); WALLY PALMAR  (the romantics); JOEY MOLLAND (badfinger); DEREK ST.HOLMES (ted nugent); DENNIS deYOUNG (styx); BRETT MICHAELS (poison); DAVE JENKINS (pablo cruise); PETER BECKETT (player); JIMMY HALL (wet willie); EDGAR WINTER,  ROBBIE DUPREE, SASS JORDAN AND TAYLOR DAYNE AMONG OTHERS.
THROUGH HIS ASSOCIATION WITH VOICES OF CLASSIC ROCK/ROCK AND POP MASTERS, BARRY BECAME FRIENDS WITH JIMI JAMISON AND, IN 2004, WAS OFFERED THE BASS SLOT IN THE BAND, "SURVIVOR".
BARRY TOURED WITH SURVIVOR FOR SEVERAL YEARS AND WAS RECORDED ON THEIR ALBUM "REACH" IN 2006.  AFTER HIS STINT WITH SURVIVOR, BARRY CONTINUED TO WORK WITH JIMI JAMISON ON SEVERAL OTHER PROJECTS INCLUDING THE YEARLY CHARITY EVENTS FOR AMERICAN AIRLINES.  JIMI IS SORELY MISSED & THOUGHT OF OFTEN.
BARRY HAS HAD THE GOOD FORTUNE AT ONE TIME OR ANOTHER TO ALSO SHARE A STAGE WITH MANY OF HIS GUITAR HEROES.  THE FIRST WHO COMES TO MIND IS JERRY RIGGS, (pat travers band – riggs); WHO HAS BEEN BARRY'S BEST FRIEND AND "COHORT-IN-CRIME" FOR OVER 30 YEARS.  ALSO ON THAT HERO LIST IS JEREMY GRAF (riggs-georgia satellites); BOBBY MESSANO (stevie winwood); DOUG ALDRICH (whitesnake); PAT THRALL (meatloaf); RICK DERRINGER (mccoys-cindy lauper); AND, YNGWIE MALMSTEEN.
THROUGH THE YEARS BARRY HAS WORKED WITH SOME OF THE WORLD'S BEST ROCK DRUMMERS INCLUDING TOMMY ALDRIDGE (black oak arkansas – ozzy osbourne); ANSLEY DUNBAR (whitesnake); MIKE MAPLE (wynonna judd); PETE MENDILLO (survivor); JOHN MACALUSO (tnt);  STEVE CARLISLE (riggs); CHARLIE MORGAN  (elton john); ARTIMUS PYLE (lynyrd skynyrd); CHUCK BURGI (rainbow – billy joel);  TOMMY RICH (donnie iris); DEREK HESS (rossington collins band) AND THE LATE COZY POWELL (black sabbath – jeff beck).
 JUST PRIOR TO COZY POWELL'S UNTIMELY DEATH IN 1998, BARRY WAS HONORED TO COMPLETE ONE LAST RECORDING PROJECT WITH COZY FOR YNGWIE MALMSTEEN.

BARRY HAS ALSO PLAYED WITH SOME
AMAZING KEYBOARD PLAYERS.  THIS AWESOME LIST INCLUDES HARK HOYT (world classic rockers); MATS OLAUSSON (yngwie malmsteen); AL GREENWOOD (foreigner – joe lynn turner); SLOAN HAYES (magic cat – starbuck);  JENS JOHANNSON (yngwie malmsteen) AND RECENT GRAMMY WINNER, PAUL BROWN.
BARRY HAS BEEN BLESSED TO EMBRACE HIS MUSICAL PASSION AND CONTINUE HIS MUSICAL CAREER WORKING WITH DON BARNES, DANNY CHAUNCEY, BOBBY CAPPS AND GARY MOFFATT.  TOGETHER THEY ARE .38 SPECIAL AND A WELL-OILED ROCK N' ROLL MACHINE!
BE SURE TO CHECK THE .38 SPECIAL TOUR SCHEDULE, MARK YOUR CALENDAR & ENJOY THE TIMELESS ROCK N ROLL OF .38 SPECIAL WHEN THEY COME TO A TOWN NEAR YOU!!
IN 1992, BARRY MOVED FROM NYC TO FLORIDA AND NOW LIVES IN PARADISE WITH HIS WIFE, LYDIA AND THEIR MENAGERIE OF CRITTERS; TWO JACK RUSSELL TERRIERS, THREE CATS, A BOX TURTLE AND A POND FULL OF GOLDFISH.
LYDIA AND BARRY ENJOY TRAVELING, CAMPING, GARDENING, SPENDING TIME WITH THEIR FRIENDS AND TAKING THE DOGS FOR WALKS TO THEIR NEIGHBORHOOD BEACH.
WHEN TIME PERMITS, BARRY CONTINUES TO WRITE AND RECORD HIS OWN MUSIC AND IS CURRENTLY PRODUCING SEVERAL PROJECTS IN HIS HOME STUDIO,  CAVE CANEM, IN ST. AUGUSTINE, FLORIDA.
---