Barry Dunaway

is a gifted and versatile b

assist, singer/songwriter

. 
With his growling bass tones, kinetic persona and soulful
vocals, Barry brings to the .38 family an undeniable amount of talent & experience.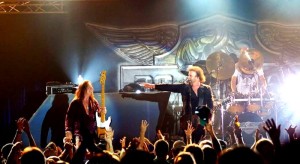 Barry is previously best known for his work with Swedish heavy-metal guitar virtuoso, Yngwie Malmsteen. In the late 1980's & '90's, Barry performed on nine of Malmsteen's albums—two of which have gold status in Japan, "Facing the Animal" and "Alchemy".  Also to his credit, Barry has four world tours with Malmsteen.
Aside from Malmsteen's band, other notable bands over the years include Riggs, Whiteface, Saraya, Joe Lynn Turner, The Pat Travers Band and Survivor.
Barry has also been a prominent member of the Voices of Classic Rock band, and the Rock & Pop Masters band which were collaborations of many rock legends and many others (see BIO page for additional info).
Over the years, through collaborations and friendships with many of his fellow musicians, Barry has also been a proud member of the American Airlines All-Star Band which benefits Susan B. Koman for the Cure and the Cystic Fibrosis Foundation.
During Barry's 52+ professional years and has also had the pleasure of performing/touring/recording with over 100 other prominent and legendary musicians/recording artists, many who are Grammy winners.
While not on tour, Barry is producing several projects in his home studio in St. Augustine, Florida.